Frustrated by a lack of results with finasteride and/or minoxidil? Looking to supercharge your current hair restoration regimen? RegenRx RU-58841 is a potent, topical alternative to conventional and lackluster hair loss prevention therapies.
Most hair restoration competitors sell their version of this product in a 30mL 1 ounce bottle which simply does not last long enough for the customer and can require frequent re-ordering. In many cases for the same price we sell our solution in a 60mL 2 fluid ounce container that provides much greater built in value to the customer. 
For application our competitors either provide the squeeze dropper or a spray head. We include both so that our customers can easily and efficiently dial in their product application to the areas deemed in need of the most attention. If your needs change you will have the applicators necessary. 
Our products and active ingredients are 3rd party lab tested for quality and purity. Not only that unlike some of the others out there our products are accurately concentrated so you know you're getting exactly what you are paying for.
RegenRx vs Placebo
View Research
RegenRx vs Placebo
View Research
Before RegenRx
View Research
With RegenRx
Feel The Difference
Nobody wants dormant hair that doesn't want to grow. Return your hair to that of your youth and get into growth mode. Our products are clinically proven to move your hair from the resting T phase (dormant) to the anagen phase (growth) allowing dormant hair follicles to start growing again.
* Just subscribe to our newsletter for further information.
Use Cases
Give us 3 months and we think you'll agree that that your hair will be the best it has been in years. Longer, stronger and thicker with new growth that you can see, feel and touch.
Learn more
RegenRx Results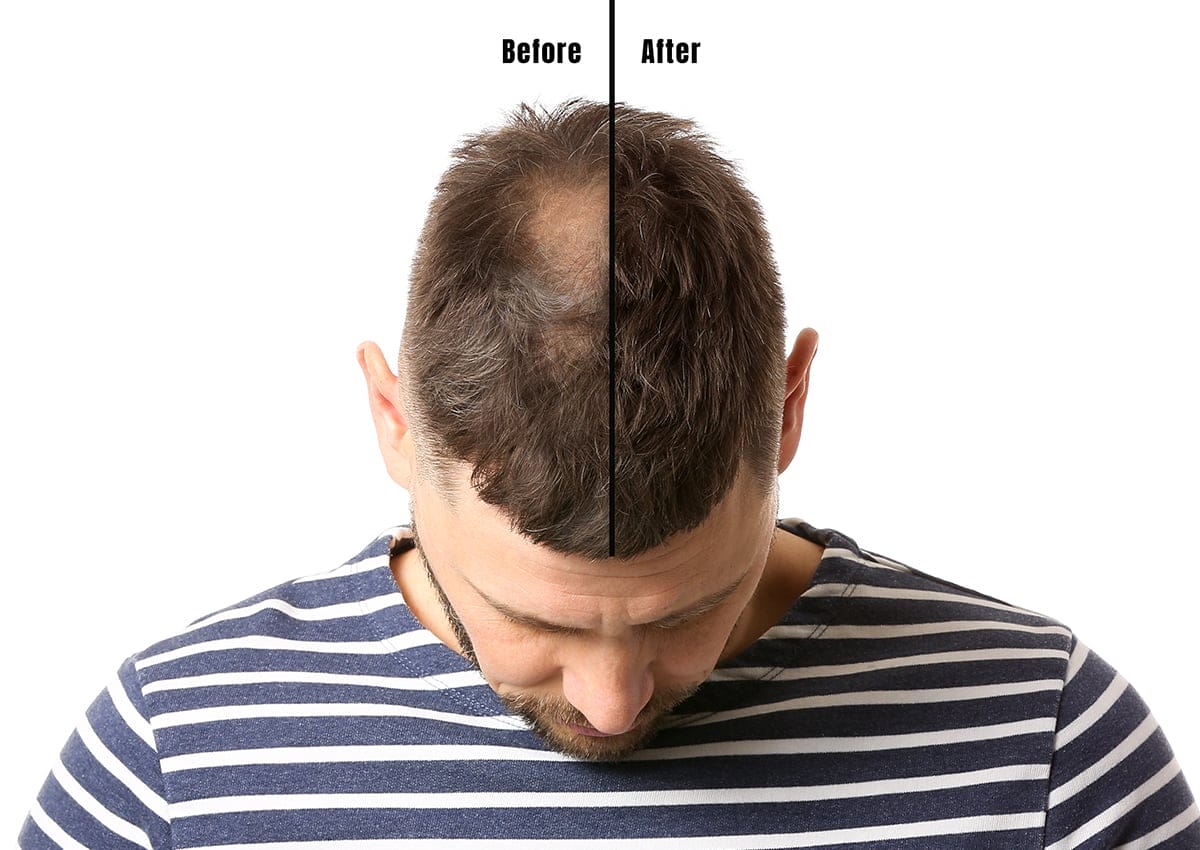 Hair Restoration Results
RegenRx Results
Hair Restoration Results
Once-A-Day Solution
Unlike minoxidil which needs to be used continually (twice a day!) or else your new hair will fall out, RU58841 therapy gradually improves hair growth and cessation does not cause rapid reversion to hair thinning. Moreover, only 40% of men experience hair regrowth with minoxidil, yet over 80% of our clients report success after just 3 months of once-a-day use and after 6 months the results are even more impressive. Lastly, it remains controversial whether or not minoxidil is actually effective for use on the hair line rather than the crown, but RU58841 is effective on all regions of the scalp.
The Fastest Trip Back To Fantastic Hair
Most of our clients report the earliest signs of visible re-growth after 2 months, substantial new growth after 3 months, and achieve maximum growth thickness and growth rate after 6 months of daily use. In contrast, only a 40% of finasteride users report any noticeable effects after 2 months. Minoxidil is the slowest of the three, as it takes 4 months for most users to see any noticeable effects.
Clinical Grade Hair Restoration Without A Prescription
RegenRx's RU58841 is a non-steroidal topical antiandrogen that has shown substantial success in promoting human hair growth in European studies. Unlike Finasteride our RU58841 solutions have shown equally great results in BOTH men and women's hair regrowth.
RU58841 instructs hair follicles to shift into anagen (growth) phase and increases linear hair growth rate. RegenRx offers RU58841 in two carrier solutions in two different strengths, optimized for either morning or evening application. Skip the embarrassing and costly discussions with doctors and buy RU58841 today.
Stacking For Success
RU58841 has a different mechanism of action than finasteride or minoxidil, so it has incredible potential for stacking if you really want to pull out all the stops on your journey back to fantastic hair. RU58841 is the only hair restoration solution that works by blocking the Androgen Receptor (AR) specifically in the cells that constitute hair follicles.
By comparison, finasteride merely slows the conversion of testosterone into DHT, whereas RU58841 prevents DHT from activating AR altogether. Thus, ongoing clinical research is currently evaluating how the two can work synergistically since they can work in tandem.